Navigation Menus with Custom Chapters & Titles
In addition to Chapter Points every 5 minutes, Custom Chapter Points set at the beginning of each film/video so you can easily navigate through your movies using the <Prev & Next> buttons on your DVD player.
Titles for Custom Chapter Points appear on "Scene Selection" DVD Menu. 60 characters maximum each.
Per Chapter.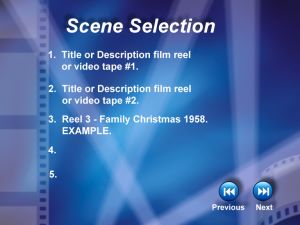 Sample DVD Navigation Menu